Real Kite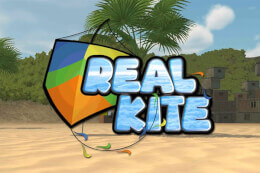 Take your kites high up in the sky and see who stays up there for the longest in this exciting simulation game that'll keep you glued to the screen.
Play Now
Developed by AnimaGames, Real Kite is a top-notch and highly absorbing kite simulation game in which you'll be flying kites with your friends and rivals to see who keeps their kite up in the sky for the longest period of time and who cuts everyone else's kite to emerge victorious so gear up, make sharp moves, and takedown everyone's kite to claim the bragging rights. You'll be briefed about the basic gameplay elements at the start of a streamlined tutorial sequence so even if you haven't played the game before, you'll know what to do by the end of this tutorial.

In terms of gameplay, the game offers highly authentic simulation elements to give you a real-life kite flying experience where you'll be in charge of flying the kite and keeping it up in the air. The game modes that the game offers are also quite exciting. You can either fly your kite alone to learn and enhance your skills, compete with other players in a competitive match to see who emerges victorious or, you can play the multiplayer mode against a single player or a friend. The kite collection in the game is also pretty vast where you'll be given the chance to fly more than 140 kites but in order to get your hands on each one of them, you'll have to win to unlock them.

The visuals of the game are truly magnificent thanks to the incredibly aesthetic level designs along with sleek animations that make the gameplay experience so much better.

Overall, Real Kite is a tremendous simulation game with top-tier simulation elements, numerous mesmeric stages, and several other amusing in-game features that make this game worthy of trying for everyone.